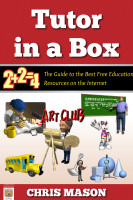 Are you one of the 1.5 Million children being educated in an alternative school setting (Virtual School Home School or Independent Study)?
Are you one of the thousands of parents who spends their Saturdays at the local coffee shop with other parents trying to figure out their kid's homework so you can help?
Are you tired of educators telling you there are resources on the internet but not where they are?
Would you like to put fun back into your child's education?
If you answered yes to any of the questions then Tutor in the Box is for you. This resource rich book will show you where the best education resources are on the internet, The book is set up like a fictional school day with the following sections:
Math
Language
Recess (Education games)
Social Studies
Art and Music
Science
Virtual Field Trips
Continuing Education (Free how to videos and college lectures)
Computer Programs
Free Clipart and Sound EffectsSo if educational resources are what you're looking for there is a tutor in the box you call a computer just waiting to help a person in need.
Tutor in a Box looks like a wonderful resource for parents who are either struggling to help their children with their homework from a traditional scholastic setting, and for parents who are homeschooling.  It provides a huge amount of information in the short book, and is well worth the price.
The subject break down makes it easy to navigate to the general section, though once in the section the ease of navigation begins to break down.
Each resource offered has a brief explanation for what the link is about, which helps determine if that is where you want to go, and is supposed to be rated.  The ratings tend to wind up clumped together every three or four entries, which can make it hard to determine exactly which site gets which rating.  Also, the site names are not highlighted, which lets them blend into the text.  It took me a few pages to figure out the site name was directly above the link.
Once that little bit is figured out, there's still some issues with graphics that continue past the edge of the page.  Most do not contain information, but the few that do are hard to decipher because some of the content is clipped.
Overall, for what the book is billed as: a resource for parents and students, this is a wonderful book and well deserves a solid 5 out of 5 stars.  The presentation suffers due, I think, to the type of material, and the fact this is definitely not a "read from front to back" book, which winds up making this a 3 out of 5 stars for presentation.  I still would recommend this to anyone seeking a solid reference guide, just with the disclaimer that it may be a little confusing to navigate.
BUY LINKS
CONTACT LINKS and info:
If you liked the book review, and wish me to review your work, please stop by my Offered Services page and send me a submission.  Almost all genres accepted, though science fiction and fantasy are preferred.