About Mark McQuillen
Raised in a military family, I lived all over the world. I'm married we have no children. We currently live in Pueblo Colorado.
Valkyrie is a combination of stories that I've collected over the years along with some characters that were created during the years of role playing games.
Valkyrie:Darkness Awaits Valkyrie Darkness Book 1
Gil Swanson has been battling PTSD for years from his years of combat and his lost comrades. While on a research trip to Gettysburg he runs into Mist, a mysterious woman from his past who is in reality a Valkyrie. Answering her plea for help Gil finds himself involved in an ancient blood feud between the darkest powers and the desperate warriors of the light.
You can get your copy here:
https://www.smashwords.com/books/view/577569 – Smashwords
http://smarturl.it/ValkyrieDarkness – (Amazon)
Valkyrie: Darkness Rising Valkyrie Darkness Book 2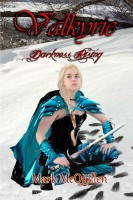 (Available for pre-order now.  Available 12-12-15)
Now that Gil Swanson has joined the elite ranks of the Valkyries the mystery of Malice deepens. He finds that this conflict has been raging for centuries and their enemy Malice is an evil from the ancient world. A malignant force who will stop at nothing to have her revenge. Now Gil stands on the threshold of Ghost Mountain with the fate of two worlds hanging in the balance.
https://www.smashwords.com/books/view/577585 – Smashwords
If you'd like to connect with Mark, you can find him at the links listed below:
Blog: http://msmcq2005.wordpress.com
Twitter: https://twitter.com/mmcquillen44
Amazon: http://www.amazon.com/Mark-McQuillen/e/B013S976LA/ref=dp_byline_cont_ebooks_1
Facebook: https://www.facebook.com/groups/1042538899090816/
Join the hop, and hop on over!
For a chance to win a free book from any of the participating authors, leave a comment at one of the stops letting us know if any of the participating authors have caught your interest.  Winners will be announced Wednesday, October 21st here, on my Facebook page, and on my twitter feed.