When the muse is silent…
When I sit down at my empty page, or more likely my half empty page, and can think of nothing to write, no resolution, no conflict, no character or no premise comes to mind, and yet I know I should be writing I give myself several options besides the obvious which are
Get off of Facebook, shut off any distractions like radio, TV, phone. Ask family members to please be quiet and give me some space. And then:
I read.
I may read a how-to book like John Truby's Anatomy of Story, or the all too popular among screenwriters Save the Cat by Blake Snyder or David Farlands Million Dollar Outlines. There's something about going back to structure and reading success stories that spurs that muse back into play.
I also pick up a book in my genre written by authors whom I admire. Often just reading a paragraph or two helps me over a hump. I'll catch their sentence structure, how they elaborate or don't elaborate, how they create a mood. Often I find what I'm looking for.
I walk.
Most of my fantasy stories take place somewhere in the country, and almost all of them have forests. I am fortunate to live in the Pacific Northwest where we have gorgeous rainforests and woods, beaches, lighthouses, meadows, farmland, lakes, rivers, glens, you name it. There is nothing so refreshing as a walk in the country. It seems that oftentimes when I am lacking in ideas, it's because I've bound my poor little mind up in a knot. I can tell when my writing is becoming trite and contrived. That's when I need to step away and breathe some fresh air and get out where those stories actually take place!
I Exercise.
No, I don't do barbells or other weightlifting. But I do fence. I love fencing. The strategic formula for combative sword play does more than just exercise your body, it exercises your mind. Learning the slight twist of the wrist, the footwork, the strategic parries, ripostes,  lunges, and anticipating your opponent's attack is stimulating at the least. And with my mind being challenged, I find writing comes easier.
I read over what I wrote.
If the reason I'm stuck is because I've come to a question in my own work that I just can't answer, reading my story over helps me understand what is missing, and where I need to go. Or perhaps I strayed from the original premise. If so I take this time to restructure.
I might add here that I am a planner. I make an outline based on my premise and use the events as chapter headings. If I get a wild idea in the middle of the story I just go back and rewrite my outline, but I like having a blueprint.
A Little About D.L.Gardner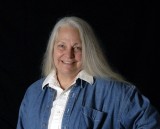 With a passion for a good wholesome story D.L. Gardner also (Dianne Lynn Gardner) dives into the adult and young adult fantasy genres. She is both a best selling author and an award winning illustrator who lives in the Pacific Northwest, USA. Dianne loves a book that ignites imaginations, strengthens friendships, spurs courage and applauds honor. Though she targets her stories for young adults, her books are enjoyed by all ages.
Dianne was born in Ohio and raised in southern CA. She attended Northern AZ University and later continued her education in the Pacific Northwest. She's an oil painter, book illustrator, screenwriter and filmmaker. She writes under the names of D. L. Gardner and Dianne Lynn Gardner. Her dystopia novel Altered has hit the best sellers chart and her underwater romance, Pouraka is sure to spark interest. Newest to her collection is the hilarious vampire satire, An Unconditional Mr. Peadlebody.
Recently published are the complete trilogy to Ian's Realm Saga and Diary of a Conjurer.
For more books by Dianne see Dianne Lynn Gardner on Amazon.
You can connect with Dianne on all these platforms:
Website: http://gardnersart.com
Twitter: DianneGardner
Facebook: Facebook profile
LinkedIn: https://www.linkedin.com/in/diannelynngardner
Wattpad: DianneGardner
Blog: https://diendrial.wordpress.com/
Smashwords: https://www.smashwords.com/profile/view/diendrial
Amazon: http://amzn.to/298KHRw
Tour Stops:
Your Next Favorite Author Blog
Assaph Mehr – The Protagonist Speaks
Nancy Moores – The Atrim Cycle
David Kelly –
Angelique Anderson's Blog