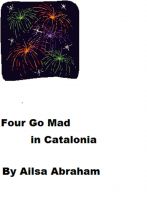 When Nanny Ab and The Ancient Mariner (not forgetting the faithful hounds) decide to look for a peaceful spot for her to write in the sun, they head for their usual hide-away in Spain. It's June, they know the place and the only thing Nanny knows she's forgotten is her hairdryer. So what can possibly go wrong?
Welcome everyone.  Today, Ailsa has returned, and has brought Nanny Ab with her, from "Four Go Mad in Catalonia".  Nanny Ab, is this your name, or do you have something else you prefer to be called?
Nanny Ab [is fine]. It's what everyone calls me so there's no point knowing if I had another one.
Nanny Ab it is then.  And, I'll be nosy as we have quite a few interesting folks come through here:  What species are you, and do you have any unique gifts?
I'm human but a witch. I spose that is normal in your world too , isn't it?
Not around these parts.  Where were you born, that witches are common place?
I wasn't born, I was hatched… out of the fertile imagination of Ailsa Abraham to take the blame for all her less-admirable traits.
Shame on you Ailsa!  Nanny Ab, do you define yourself in terms of "good" or "bad"?
I am very moral but I don't suffer fools at all, never mind gladly. Got great patience with the afflicted or elderly but not "normal" people who are just being stupid.
My kind of gal!  Does that make it hard to get along with others, though?
[No] – I am the world's greatest "get-chatting merchant". I can't go anywhere without being on the receiving end of other people's life stories. Get 'em all laughing and leave 'em like that!
Makes sense to me.  Since you know you're a hatchling from someone's imagination, what does that do for your personality?
Does that split affect who you consider to be your friends or enemies?
[No.  My enemies will always be] anyone who is cruel to animals.
What would you do if one of your enemies complemented you?
Pick up my two-ton handbag and whack 'em with it.
Sounds about like what I like to call my Bakka Hammer.  Do you have anything you'd like to change about yourself?
I wish I weren't such a soft touch and so wishy-washy (giggle)
I'd say that whacking your enemies isn't wishy-washy!  Do you ever feel the knee-jerk reaction affects your chances of dating anyone?
You're not that old!  There's gentlemen out there who are looking, and they aren't that much younger (or older) than you.  Or is it your occupation that prevents you from finding someone?
I'm full-time travelling companion to the famous author Ailsa Abraham and yes, I love it.
Maybe that's the barrier?  They see you with her, and think you two are a couple already.
Do you have any deep secrets or dark fears you can share with us?  (Ones Ailsa may not know about?)
[My secret is that] I hate gravy.
[My fear is] people taking me seriously
Oh, dear.  That is a hard one to respond to.  Do you have any achievements to help counter that fear?
I stop Ailsa going out of her mind when we are on the road. I keep nudging her and saying "Think how good this is going to read in the book".
::Chuckles::  That is a wonderful counter all right.  Nanny Ab, thank you for coming by today.  Ailsa, thank you for coming back on such short notice.
If you enjoyed the interview, and wish to connect with Ailsa, you can find her home over on the  Bingergread Cottage, or on Amazon here writing as Cameron Lawton.  She also haunts Facebook Here, and makes appearances on Twitter Here.
If you enjoyed the interview, and wish me to host one for you, please head over to my Offered Services page, and fill out the simple submission form.  I'll get back with you soonest to discuss details.