From time to time I work with various blog tour groups or participate in various Facebook parties.  I've included this page to highlight upcoming, or ongoing events.
Notice Board
Just in case you missed the earlier notice:   I have rearranged a little.  I have moved the first list of author and character interviews to Here, and started a new page for the list of interviews I'll be hosting this year.
Keep an eye out!  If all goes well Raonal Tionestake: A Companion Novella will be making an appearance by September.  I'm also hoping to have some good news on the , I hope to be releasing the second of the companion novellas for the Followers of Torments Saga, Into the Sunlits has been revised, and back in the editor's hands.  There's a few new scenes, and a couple of expanded scenes.  If you have a copy already, once I get the updated version finalized you should be able to contact your retailer for an update.   I am also starting to work on book 4 of the saga, Keep this in Mind.  Again, if all goes well, I'm expecting to have it ready for release by the end of the year.  So, some BIG, and exciting news all the way around.
Akantheldama Intu: A Companion Novella is on it's way!  Just wrote "The End", so not too much longer, and I'll be bouncing off the walls with a lot more information about when it'll hit shelves, and the behind the scene information for it.  Can't wait!
---
I also plan on having a couple of special events as the rest of my books are released.  I'll post those here as well.
Facebook Parties
Virtual Fantasy Con is coming back!  
VIRTUALFANTASYCON is returning in October 2016. Mark it on your calendar. A call for Authors of HORROR / FANTASY / SCIENCE FICTION
Authors
Artists
Bloggers
Book Services(editors/reviewers)
Publishers
Vendors (People who sell items at Con fests – jewelry/bookmarks/tote bags/key rings/t shirts/book related products.)
Featured Booths include:
A Cosplay booth with a daily prize bundle for a best Cosplay selfie and a Grand Prize at the end of the week.
A Blog Hop Hunt with prize bundles to win.
Booths and an Author's Cache sale booth
Giveaways
An event page: The Reader's Corner with readers voting for the Best of FantasyCon Awards.
Panel Discussions viaYoutube.
Dates and Scheduled Genres:
Sun Oct 9 – Epic/Sword&n Sorcery (include High Fantasy)
Mon Oct 10 – Sci-Fi / SciFantasy / Time-Travel
Tue Oct 11 – Fairytale /Punk (includes all versions of Punk)
Wed Oct 12 – Paranormal /Urban
Thurs Oct 13 – Series /Short Stories (includes all subgenres of FantasyCon)
Fri Oct 14 – Dystopian /Apocalyptic
Sat Oct 15 – Dark /Grimdark / Horror
Sun Oct 16 – Children's /YA Fantasy
All guests and boothholders can now attend a convention from the comfortable surrounds of their own home. Just think, no paying for car parking, no huge crowds and best of all you have a whole week to pop in and out of the 8 day event to chat with any Booth Holders you like.
Keep your eye on the prize and look out for news by visiting this Facebook page – A Flavour Of Fantasy
We have several interviews and author spot lights up on the official #VirtualFantasyCon website.  come on over and check them out!
---
 Your Next Favorite Author Promotions
This one is an ongoing promotion.  I've started a page for #YourNextFavoriteAuthor 
Here.  
You can find the current updates on what we're up to next.  There's an ongoing game we like to call "King of the Hill" and encourage everyone to join in!
This isn't just one person, but a group of about 2,500 authors in the science fiction and fantasy genre working together to help each other out, which makes it very exciting.  You never know for certain which genre will be up next, or who will catch your eye.
A few of the threads we have going right now:
Twitter:  Look for the tags #YourNextFavoriteAuthor and #YNFA to find, and follow, some exciting new authors.  You never know – they might actually BE your next favorite author.
Facebook: Join the group Science Fiction and Fantasy (and other genres) Authors Group Promo Group to find stay current on all the incentives and new ideas coming out.  Readers are encouraged – this is a chance to help shape how books are presented to the larger audience.  We do listen!
Blogs:  I'm not the only one who is participating in the blogging effort to spread word about the group.  We're still in the early stages, but expect to start seeing blog tours for our members start percolating through the various "blogospheres."  Right now, our founder Lucinda Moebius serves as our central go-to point for blogging information.  She maintains the Your Next Favorite Author Blog.  There's weekly author spotlights, questions, writing prompts, and reports for how our group is benefiting from everyone's effort.
Games:  Again, we're still in the early stages here.  The current game is our "King of the Hill" that I mentioned earlier.  Through active participation, members are allowed to submit books to be part of this effort.  Readers benefit, the authors benefit, and we all get to have some creative fun.  When a new book is crowned "king" it goes on sale for a limited time – until it is knocked off the throne (which requires 50 verified purchases) or it becomes obvious that interest in the book has been lost.  (Which we do not like to see.)
As you can see, there's a lot going on.  We invite everyone who enjoys exploring the many facets of science fiction and fantasy to come on over and join in the fun, and to find #YourNextFavoriteAuthor!
---
The Opinionated Man has opened the doors on a new way to help his fellow authors and bloggers.
For more information on promoting your book through http://aopinionatedman.com please visit the following link! https://aopinionatedman.com/book-promotion-terms/
While he's new to the promotion scene, he's not new to the marketing business.  If you're looking for a way to get word out about your writing, I'd recommend checking out this opportunity.
---
 T.J.'s Book Tours
T.J. is a fellow WordPress user, and does a wonderful job coordinating and scheduling blog tours for her clients.  These are just the ones I've participated in, but you can find the others she's done here.
---
 Author Run Campaigns
After her monastery is attacked and her sisters slaughtered, Kaiya-faoii is left alone to fight back against her uncle's army or watch him enslave them all.
The faoii have protected Clearwall for generations. A close relationship with their Goddess and sisters has always allowed these women to maintain their temples and lands in peace and prosperity. So when the monastery of Kaiya-faoii is attacked by the long-vanished croeli, an ostracized nation seeking to reclaim their former glory, the faoii are caught unprepared and only young Kaiya-faoii is left alive. Forced to cope without the long-standing traditions of her Order, Kaiya travels across the country searching for others to help avenge the destruction of everything she's ever known. The search brings Kaiya not only to other faoii that have survived the occupation, but to a secret she never wanted or dreamed of—an estranged brother. Fighting against a system that has kept them apart their entire lives and forced into a war at the heart of a broken empire, the siblings must evaluate the true meanings of enemy, betrayaland freedom—and the grey areas surrounding each.
Click on the Inkshare link to discover new updates for this crowdfunded campaign.  Click on Tahani's name to head over to her blog, and get to know her better.
A little about Inkshare: They are " a book publisher that has readers, not agents or editors, decide what we publish. We publish any work that successfully hits a pre-order threshold on our platform. By "publish" we mean that we edit, design, print, distribute, and market books. You can find our funded books here. "
**********
Publish "Blood of Invidia" Book Gofundme campaign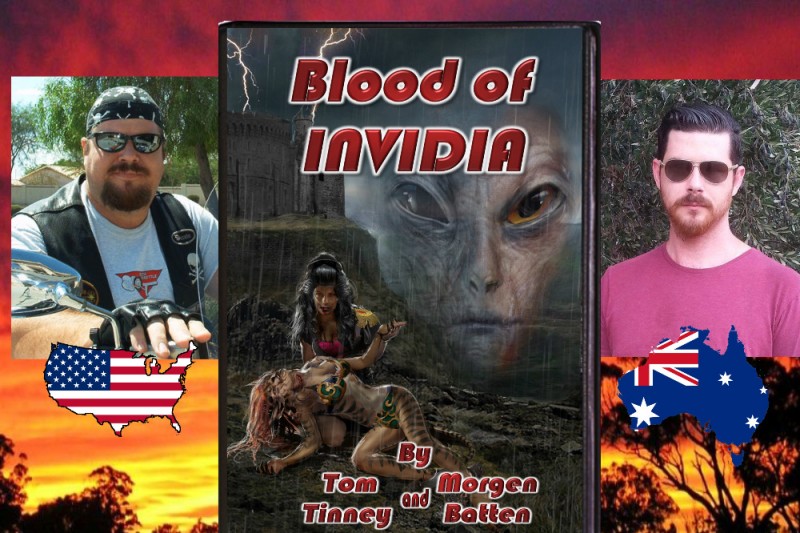 What's the book about that you'll be supporting?
10,000 years ago, as a majestic race of beings waged war across our galaxy. They were the Invidians and they conquered worlds. They were driven to build their empire and fulfill their destiny. But they were mortal, so they sought the secret to eternal life. They found it.
And then they disappeared.
You can support Tom's campaign Here
---